When you order furniture from us, it's normal to have questions about how delivery day works!
Do I need to be there in person? Should I tip the movers? How do they know where everything is supposed to go?
This post answers all your questions how delivery day works with Furnishr. Congrats on your new place!
Before Delivery Day
Q: What time will they come?
A: We will work with you to reserve a timeslot that works for you.
Most delivery slots are booked with a morning arrival window between 9 am – 12 pm. We work with local insured and trusted delivery partners to deliver and assemble your furniture. Occasionally the movers are held up by traffic or previous deliveries, but we will communicate any delays promptly. You will work with our Customer Success Specialist in case a morning time slot doesn't work for you. Our calendar invite will reflect the arrival window of our crew.
Q: Can I contact the delivery team?
A: Your dedicated customer success specialist will be your point of contact.
We will relay any info to the team. The crew doesn't always get assigned until the evening before the delivery day. We will share the name of our local delivery partner who is assigned for your delivery a week prior to your delivery date. They will give you a quick call to confirm some details before your delivery date. Finally, on the day of your delivery, they will call you about 40-30 mins before they reach your delivery address with a precise estimated time of arrival.
Q: How long does it take?
A: Between 3-5 hours, usually.
Most installations take just under 6 hours to complete, but smaller projects can take much less time! It's an average of 2 hours per room, plus about 45 minutes each for the load-in and the load-out. Please allow for an entire day in case there are any delays.
Q: How will they get the furniture up?
A: Book the elevator in advance.
Our movers will need access to your service elevator if you have one. It's best to contact your superintendent and arrange to book a time based on the arrival window of our crew. This is typically a 3-hour window. They can advise on which elevator and loading bay our movers should use on the delivery day. We can coordinate this part, so just put us in touch! If you have stairs, ensure that the walkway is clear.
Q: Do I need to stay home all day?
A: No, just have someone open the door.
The best part about this process is that you don't have to be onsite! If you have a concierge (or a friend) that can open your front door, we can take care of the rest. The movers come equipped with your floor plan (if you were able to share one during the design process) and the layout you and your designer agreed on. You don't have to do any pointing or explaining.
On Delivery Day
Q: How do they know where stuff goes?
A: Magic!
Our delivery crew will have a custom-made delivery guide that will show them exactly where to place the furniture and the decor pieces selected by you in collaboration with your Furnishr designer. You don't have to do a thing!
Q: What do I do with my old furniture?
A: It should be removed or cleared before delivery day.
If you have any old furniture, it needs to be out of the way before the movers arrive. However, for a small fee, we can offer responsible disposal. Responsible disposal is where we remove your furniture and keep it out of the landfill by sending it to be recycled and reprocessed. Please ask us ahead of time about this service.
Q: What if there's a problem with an item?
A: We'll fix it, no problem.
Rarely, an item will break on its way from the manufacturer. Or maybe you discover that you don't like a certain piece of furniture in real life. Our customer success team is committed to making your experience amazing, so just let us know if something isn't right! We are happy to send you alternate options or order replacements for damaged items. Please read our returns and exchange policy for more details.
Q: What happens to the moving materials?
A: Movers will gather and recycle them.
Our movers take care of removing the boxes and packing materials so that you can enjoy your newly furnished home. Usually, the front desk can tell them where the building's recycling is located, but if you live in a house just show them where they can discard the packaging debris. Please note that our movers are not cleaners. They will leave your home tidy and remove their mess but do not expect them to clean your home as they are not equipped with a vacuum cleaner. We partner with a cleaning company to offer discounted services to Furnishr customers. Please ask us for more details about this add-on service.
Q: Do I need to tip the movers?
A: The tip is totally optional.
If you appreciate the great service from our crew, feel free to tip them $10 to $50 depending on the level of service.
Q: Who can I contact with questions?
A: Our Customer Success Specialist, via phone, email, or text.
You can reach the Customer Success Specialist by phone call, text, or email, before and during your delivery day. If you run into any problems or have any questions about your items, just send an email or give us a phone call.
Q: My delivery address is in a remote location. If the on-site crew needs to reach out to me what can I do?
A: Please share the wifi access with our delivery team in advance.
To make sure we can stay in touch with the crew at your property, especially if it's in a remote location, we kindly ask that you share your Wi-Fi access with us before the delivery day. This way, if the crew needs to contact you or us and there's no cell network available, we'll still be able to communicate with them. It's an important precaution that can help everything go smoothly on delivery day. Do let us know if the Wi-Fi is not set up yet.
After Delivery Day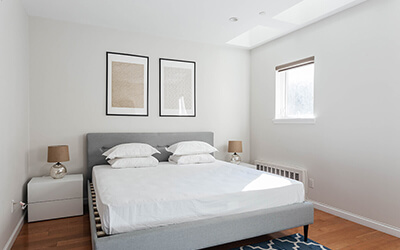 Q: What if I find issues after the delivery day?
A: No problem. Just reach out and we'll take care of you.
You can enjoy your newly furnished home.
We typically do a follow-up with each customer after delivery day to ensure they had a good experience. Expect a phone call or short email from our Customer Success Specialist.
Additionally, you and your new space are invited to be featured on the Furnishr blog and our Instagram. Show off your new space and help other people discover Furnishr! This is optional, of course, but we find that lots of people want to capture their space looking great.